We are disappointed by the vote today in the Polish Parliament who rejected a civic initiative bill that would legalise abortion. 265 Members of Parliament voted against the safety, dignity and freedom of Polish women.
66% of Polish people want liberalization of abortion care which means that a small ultra-conservative group is deciding against the will of Polish citizens.
Women's rights organizations and parliament members of the opposition Lewica party collected over 200k signatures for a civic initiative bill, "Legal Abortion Without Compromise," which would permit abortion without restriction as to reason up to the twelfth week of pregnancy. It would permit abortion after 12 weeks in cases of risk to the person's mental or physical health, a non-viable pregnancy, or pregnancy resulting from rape or incest.
This bill would have protected women and their families and could have avoided cases like Agnieszka's - who died in agony leaving her three children behind when doctors denied her abortion care when she was suffering from an obstetric emergency.
Currently, Poland has one of Europe's most restrictive abortion laws. Together with Malta, it is one of only two European Union Member States that has not legalized abortion on request or broad social grounds.
In Poland, abortion is only permitted in situations of risk to the life or health of a pregnant woman, or if a pregnancy results from rape. In practice, however, it is almost impossible for those eligible for a legal abortion to obtain one. Every year thousands of women leave Poland to access abortion care in other European countries, while others import medical abortion pills or seek extra-legal abortion in Poland. Polish women, particularly those in difficult socio-economic situations, have to depend on the crucial help from civil society organizations, with often limited resources.
We remain committed to the fight
The vote today in the Polish Sejm comes after at the end of 2021 the 'Stop Abortion' bill was defeated in the same chamber. This terrifying bill would have imposed prison terms for women and anyone who helps them access abortion, including family members, friends and doctors.
This back and forth between progress and regression is reminiscent of the fight for abortion care in Argentina, San Marino and Ireland. There were many votes lost but in the end, women won their right to bodily autonomy.
In spite of harassment, legal attacks and intimidation campaigns, Polish women rights defenders stood yesterday in the Parliament, bravely defending the rights of many. They will continue to stand up to forces that want to police women's bodies even if at risk of imprisonment. Justyna is currently facing jail time for allegedly helping a survivor of domestic violence get abortion pills.
Recalling the yesterday's debate in Parliament, Marta Lempart from the Polish Women's Strike said: "We saw all the hysteria yesterday, the walking out, the tantrums, the shouting, when they saw me speak in the Chamber. The displeasure that they had to listen to what I as a citizen had to say to them. On the other hand, they did everything to have to listen to me once again. Clearly, they have invited me to the Sejm again. Again, they want to meet me, again they want us to see each other there. I am ready."

They will have to listen again to the voice of thousands of Polish people. 66% of Polish society is in favour of legal abortion. We know that abortion in Poland will be legal. And we all know this. - she continued.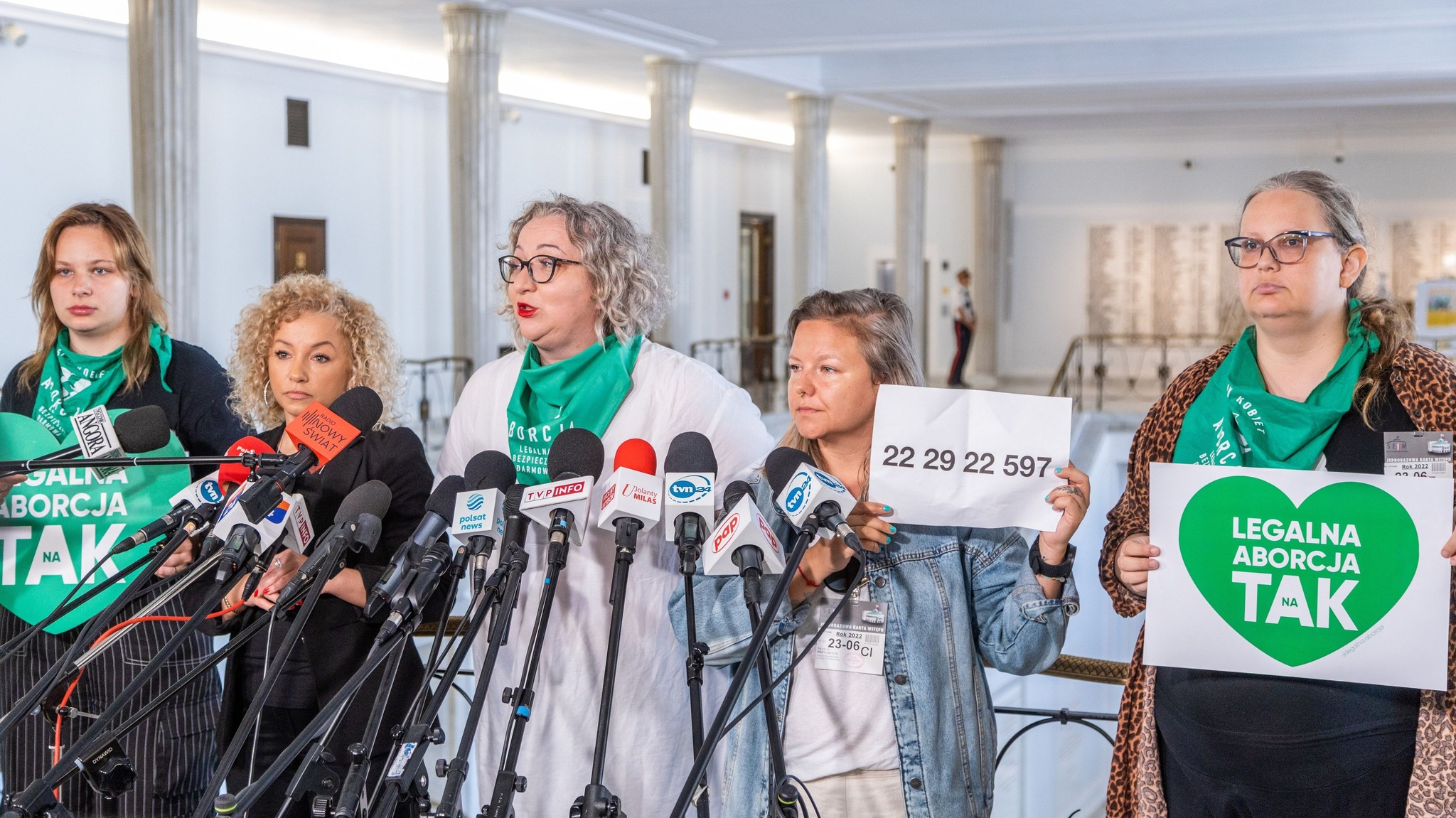 Marta Lempart and supporters of the Legal Abortion without Compromise bill
Polish Women Strike
Marta faces 100 legal cases against her orchestrated by anti-rights actors.
The links with the erosion of the Rule of Law
The degradation of the rule of law is enabling attacks against women's rights and their defenders.
There is a history of severe and steady decline in the respect for EU values in the country - with attempts to undermine judicial independence, refusal to comply with European court's decisions, attacks on media freedom, and restrictions on civic space being documented by civil society. Rule of law deficits are having negative impacts on human rights, particularly on the sexual and reproductive rights of women and on LGBTI people's rights.
Despite the lack of meaningful progress to restore the checks and balances necessary to uphold the rule of law, the EU just last week decided to unlock the block's funds to Poland. This further endangers human rights and democracy in Poland and sends a very bad signal to all those that constantly attack EU values.
....
The Polish government has a duty of care for its citizens. We ask them to take responsibility and listen to the voices of their people.