Joint press release by the European Parliamentary Forum for Sexual and Reproductive Rights (EPF) and the International Planned Parenthood Federation European Network (IPPF EN)
We mark the International Safe Abortion Day by highlighting that women and girls in Europe face unnecessary obstacles to access abortion care and in some countries are even forced to continue pregnancies against their will. The joint EPF-IPPF EN "European Abortion Policies Atlas" scores 52 European countries and territories on legal frameworks to access safe abortion care and clearly shows that Europe is not as progressive as it might seem. 

While international media has recently rightly focused on Texas and the broader US in terms of restricted abortion access, the situation in Europe also deserves specific attention. Our atlas shows a mixed situation across the Continent, says Neil Datta, EPF Secretary.


While national health systems in 21 countries treat abortion as any other medical service, in 14 countries and territories, abortion remains technically a crime, even though most Europeans consider abortion to be a women's right, continues Datta.

This first in-depth analysis of abortion policies across Europe finds that legislation on abortion care throughout the region is a diverse legislative and administrative patchwork - the consequence being that women's experience of abortion care largely depends upon their postcode:
31 countries don't include abortion in the national health system's financial coverage - this penalises all women and girls, but specifically the vulnerable (e.g. low income, living in rural areas, Roma, sex workers and undocumented migrants).
19 countries, including several known for progressive stances, force women to endure medically unnecessary requirements before accessing abortion care (compulsory and sometimes biased counselling, forced waiting periods).
A safe, voluntary abortion should not be treated as a crime. And yet, 16 countries in Europe regulate abortion care primarily through their criminal and/or penal code.
26 countries allow health workers to deny care on the basis of their personal beliefs or convenience, thus potentially placing women in serious danger. 
18 European countries fail to provide people with clear and accurate information about abortion care.
Access to abortion care underpins women and girls' reproductive health. And yet in Europe they are faced with obstacles that threaten their safety, dignity and freedom - with 38 countries and territories scored as doing medium to exceptionally poor. There are of course outliers such as Poland and Malta where governments force women to endure a pregnancy. But even in so-called progressive countries, women and girls continue to endure medically unnecessary procedures or denial of care by medical professionals on the basis of personal beliefs or convenience.

It is startling how much disregard some governments have for women's lives. A new bill was just introduced in the Polish Parliament that - if adopted - would remove the possibility of accessing abortion care even in cases of rape or incest, says Caroline Hickson, IPPF EN Regional Director.


This move comes after, almost one year ago, abortion in cases of severe and irreversible foetal defects was banned. Women have been forced to travel abroad, mostly to the United Kingdom to access care, but soon they will be needing a passport to enter, restricting even more their choices, continues Hickson.

Governments have a responsibility to safeguard the right of women and girls to lead free and safe reproductive lives without discrimination and coercion. We call on governments to urgently update their legislation so that women and girls are able to access safe, legal and compassionate abortion care. 
Press contacts: 
Irene Donadio, IPPF EN, [email protected], +32 491 71 93 90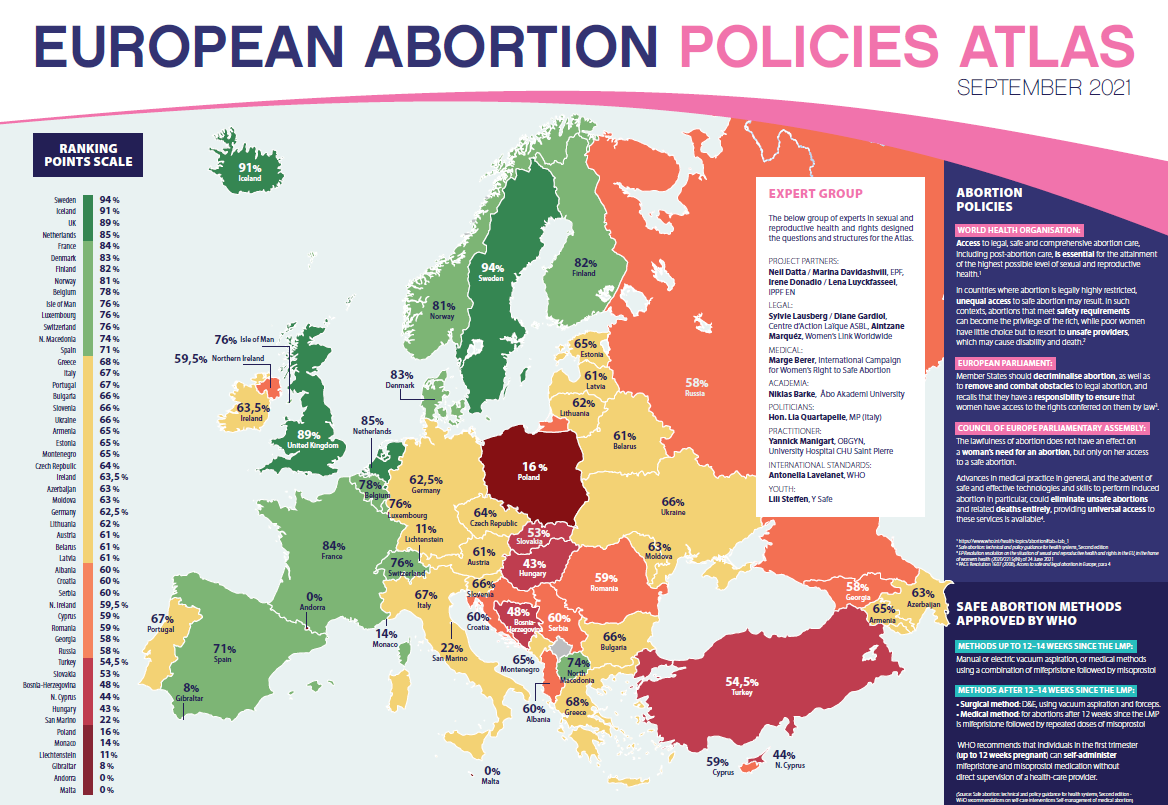 European Abortion Policies Atlas
IPPF EN/EPF