IPPF EN cares for people in all their diversity across Europe and recognises their right to lead safe and dignified reproductive lives, free from harm and discrimination. 
This page summarizes progress made by IPPF to achieve our Strategic Framework 2016-2022 so that everyone can realize their sexual and reproductive health and rights.
The COVID‑19 pandemic caused significant disruption to frontline services and advocacy efforts. But IPPF Member Associations (MAs) have shown extraordinary resilience, advocating with their governments for the inclusion of sexual and reproductive health as essential healthcare. Several played a critical role in influencing policy changes to sustain access to services. These included approval of telemedicine, online consultations, home use of medical abortion, and the provision of online relationship and sexuality education (RSE). MAs also adapted their service delivery models.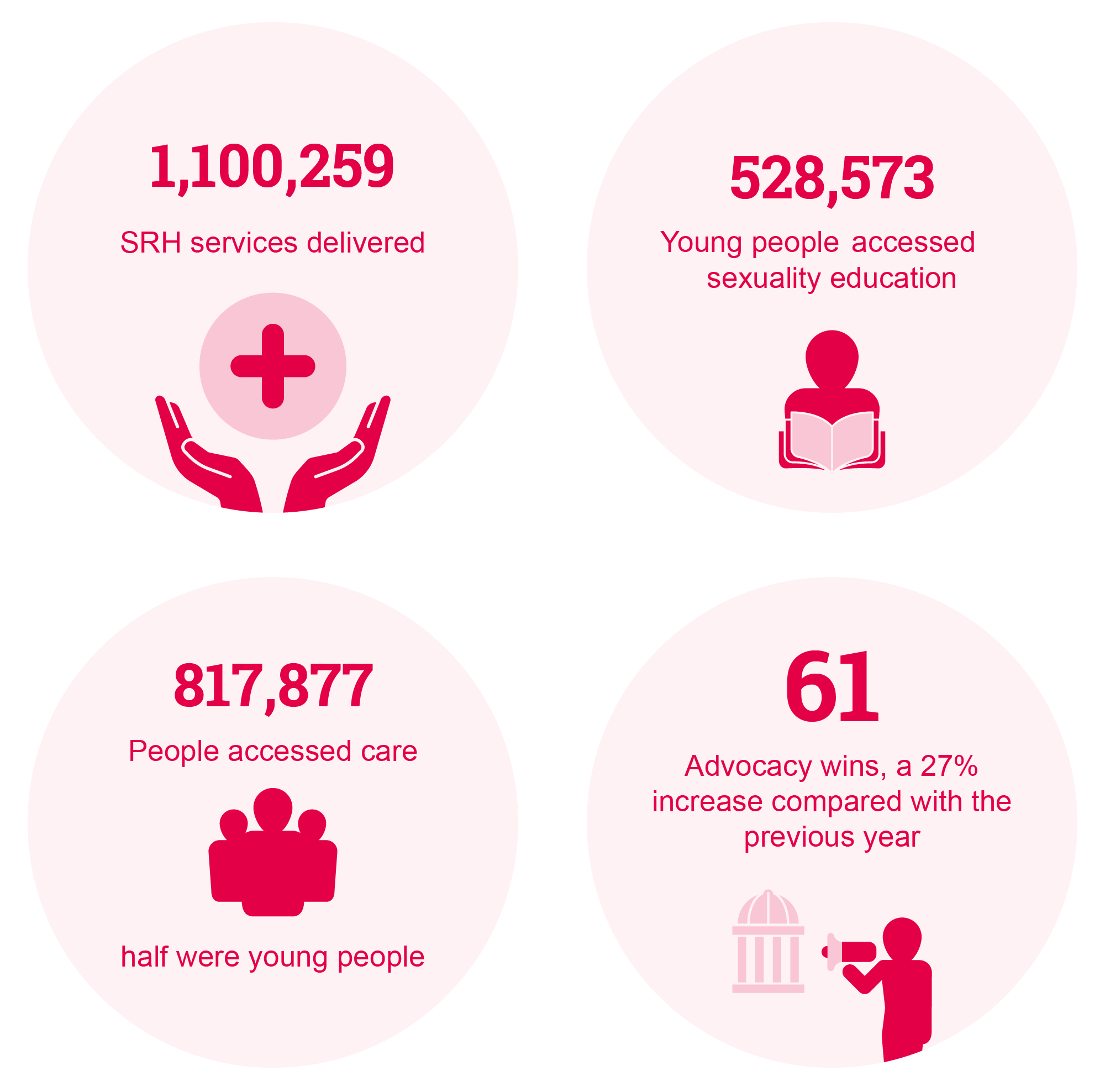 2020 main highlights in Europe and Central Asia
IPPF EN
Fighting for Reproductive Freedom and Access to Care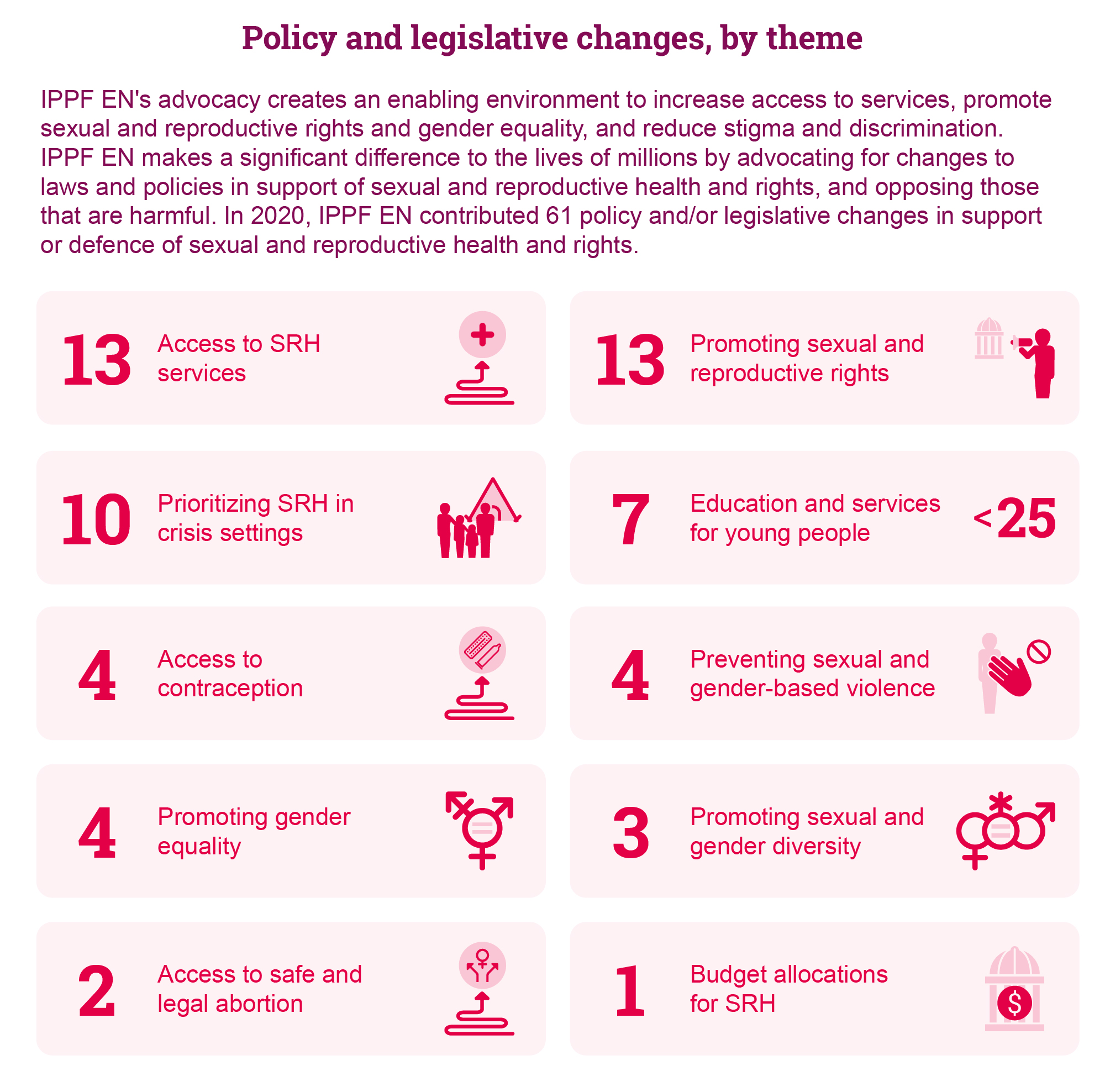 Policy wins in Europe and Central Asia
IPPF EN
2020 was a stand-out year for driving sexual and reproductive health and rights (SRHR) into all corners of relevant European policy processes. IPPF EN achieved a record number of 23 advocacy wins at the regional level, many of which reflected the successful targeting of multiple EU policies, strategies and funding instruments.
IPPF EN has long worked to ensure gender equality is at the heart of the EU, so we were delighted to contribute to substantial gains in 2020. The new EU Gender Equality Strategy 2020-24 contains a strong reference to SRHR as a fundamental component of achieving gender equality and women's rights within the EU. And in the 3rd Gender Action Plan (GAP) 2021-25, the cornerstone of gender equality in EU external actions, a full pillar on SRHR as one of six priority areas was included for the first time. The GAP also mainstreams SRHR in both the pillars on Gender-Based Violence (GBV) and Health and Education. Relationship and Sexuality Education (RSE) is included as a way to prevent GBV and achieve equality.
Since the early stages of the COVID‑19 pandemic, IPPF EN and our Member Associations have been actively engaged in advocacy with governments to ensure people have continued access to SRHR.
In Kazakhstan, the Kazakhstan Association on Sexual and Reproductive Health (KPMA) has participated in a working group developing new national guidelines on providing antenatal care though telemedicine and online consultation. In France, the Mouvement Français pour le Planning Familial (MFPF) called on the Ministry of Health to secure the continuity of SRH service provision across the country through the introduction of telemedical consultations, waiving prescriptions and extending delays for medical abortion at home. MFPF's advocacy for contraceptive and abortion access was successful, as the ministry agreed to relax the rules. In Ireland, the Irish Family Planning Association (IFPA) has worked hard to ensure access to abortion care during the COVID-19 crisis and to limit unnecessary exposure to the virus among healthcare workers and women seeking abortion care. In Norway, Sex og Politikk engaged in advocacy towards the Ministry of Foreign Affairs to secure its prioritisation of SRHR in its COVID-19 related development and humanitarian efforts. These are just some examples of the amazing work done by our members to ensure reproductive freedom and access to care.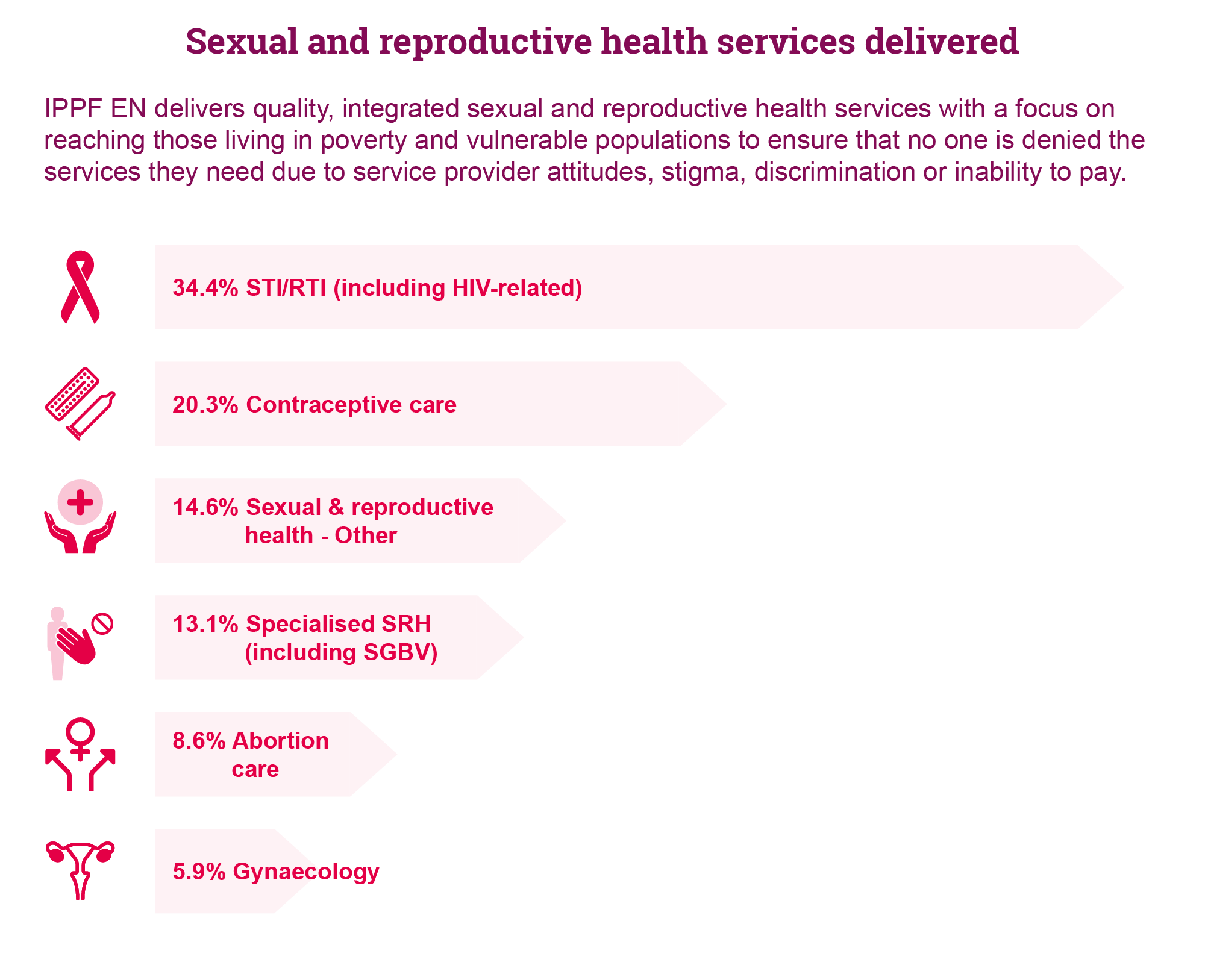 SRH services delivered in Europe and Central Asia
IPPF EN
IPPF Member Associations in Europe and Central Asia delivered a total of 1,100,259 services in 2020, remaining committed to supporting people's health and wellbeing as COVID-19 profoundly impacted access to essential care. Furthermore, confinement measures led to an alarming increase of domestic violence and of sexual and gender-based violence (SGBV), including intimate partner violence. Women and children who experience violence by family members were forced to be isolated with their perpetrators, making it much more difficult for them to escape and get support. Member Associations worked to ensure that services and resources remained available and accessible for women and children at risk or survivors of SGBV (Learn more about the work of our MA in Serbia on enhancing management of SGBV in response to the pandemic).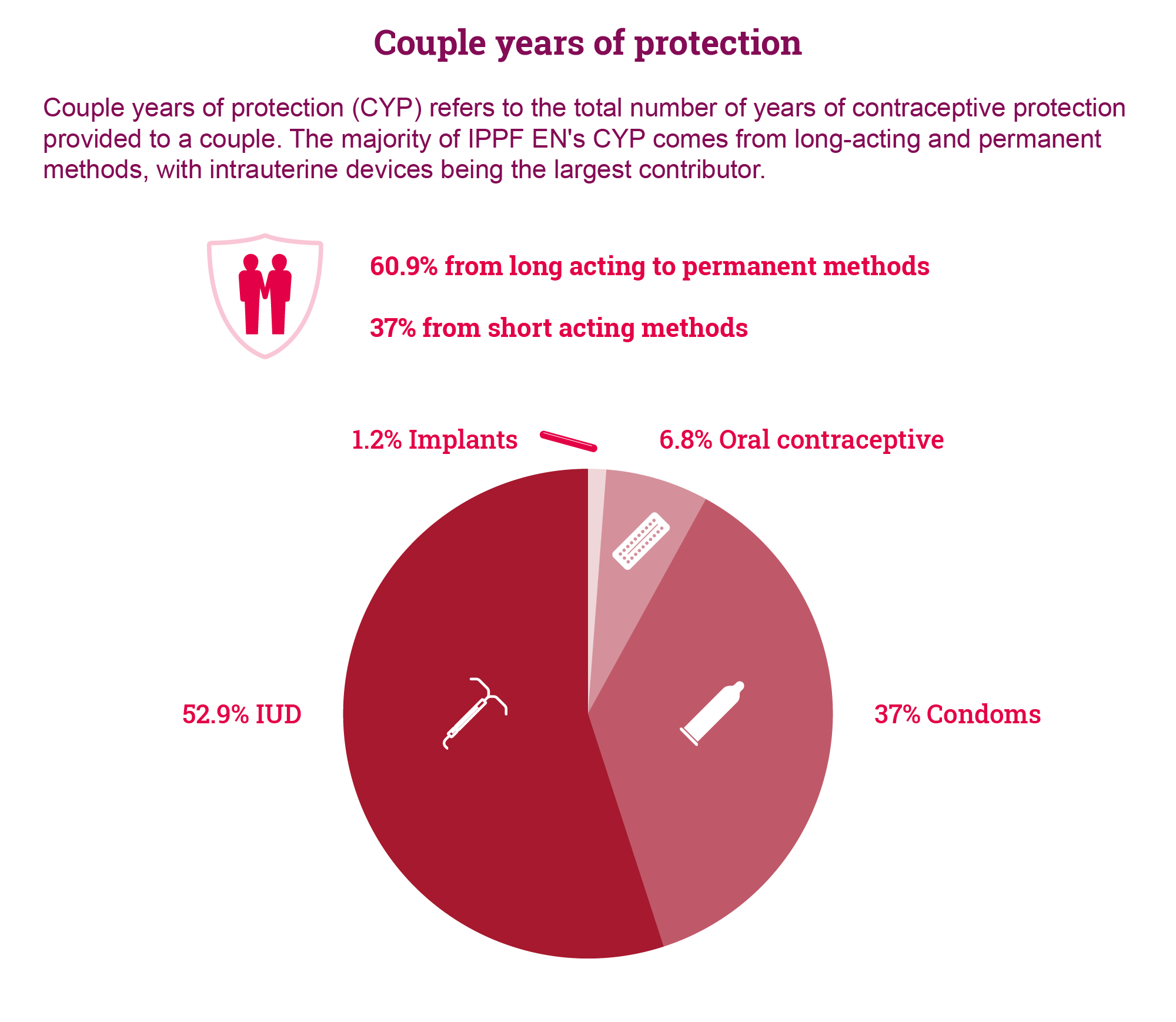 Reaching Those Whose Need is Greatest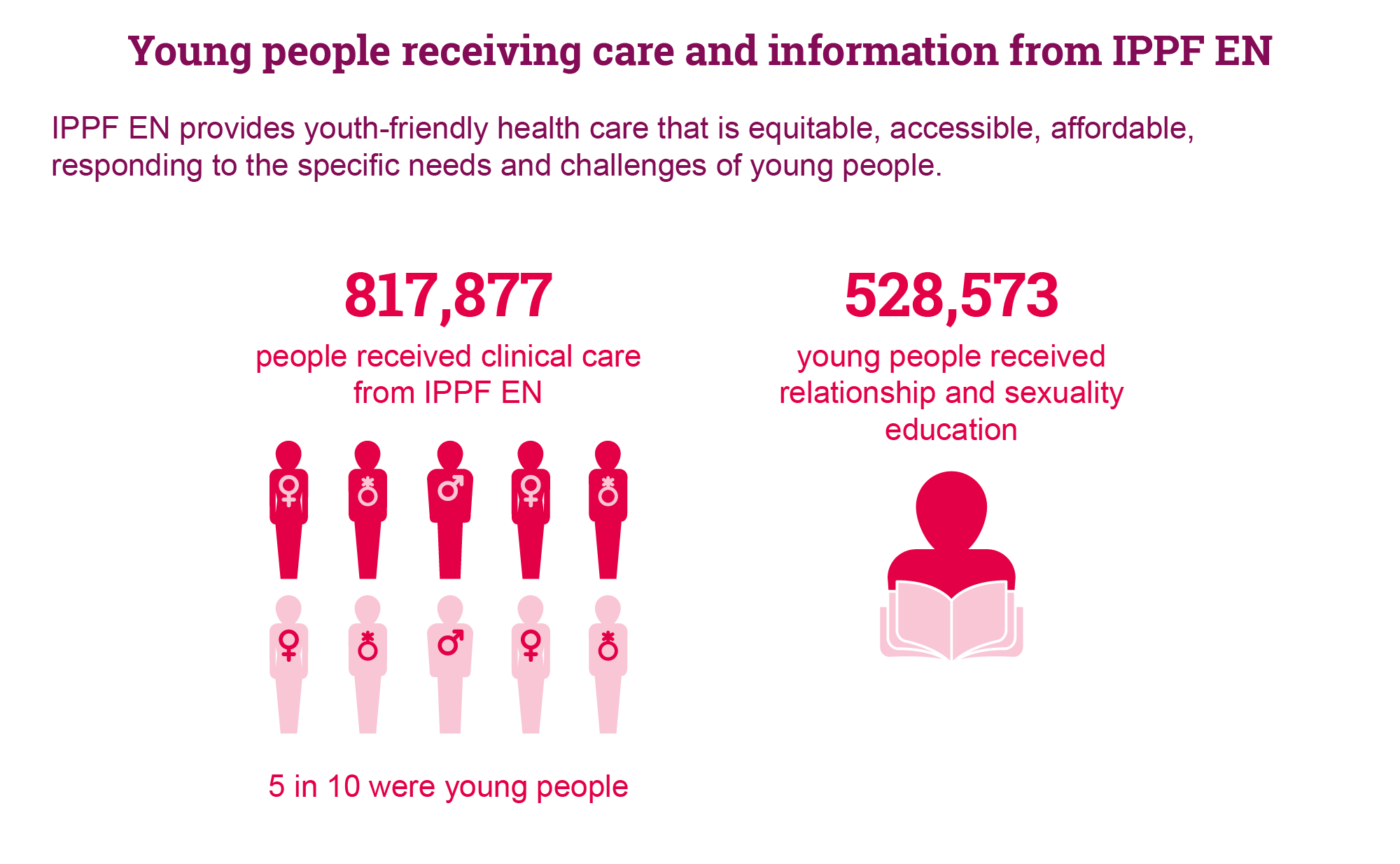 Care for young people
IPPF EN
COVID-19 saw the closure of schools and face-to-face gatherings worldwide, meaning a halt to relationship and sexuality education (RSE) for many young people. In response, we innovated with digital tools to engage with young people and continue delivering RSE (Learn more about the work of our MA in Estonia on enhanced RSE delivery during the pandemic).