Woman human rights defender, Vanessa Mendoza Cortés, from Andorra could soon face trial for speaking out on women's rights and the right to abortion before the United Nations (UN). If Vanessa is convicted, she faces a big fine of 30.000 Euros and could have a criminal record. 
Vanessa Mendoza Cortés is a psychologist and the president of the women's rights organization, Stop Violence, (Associació Stop Violències, in Catalan), which focuses on gender-based violence, sexual and reproductive rights, and advocates for safe and legal abortion in Andorra.
Vanessa has been targeted by her government for the past four years, simply for exercising her right to freedom of expression and criticising the full ban on abortion care in the country.
Vanessa spoke in front of the United Nations Committee on the Elimination of Discrimination against Women (CEDAW) in 2019, as part of the regular and critical exchange of information conducted between this UN body and human rights defenders around the world. 
Following a complaint from the Andorran government, the public prosecutor brought charges against her. While previous charges of defamation, which carried prison sentences, were dropped in 2021, thanks to international pressure, Vanessa continues to be harassed by the prosecution, who is accusing her of crime 'against the prestige of the institutions'.

It's been four years since the government attacked us. Institutional and state violence began in 2019. And it's been horrible. While we fight to guarantee women's right to decide, we have been subjected to a media smear campaign meant to stop us from helping women by swaying public opinion against us. But it did not work, said Vanessa Mendoza Cortés.

Through this judicial harassment, the Andorran government is attempting to censure Vanessa and stop her, and any other women human rights defenders, from speaking out on women's rights and legal abortion care. Women human rights defenders are vital to a healthy democracy. Any oppression, orchestrated and encouraged by governments – including intimidation, smear campaigns, detention and criminal charges – cannot stand. 
We demand that charges against Vanessa be immediately dropped and that the State refrain from further attempting to silence women human rights defenders. The law under which activists can be charged with a crime 'against the prestige of the institutions' must be repealed and, in the meantime, not used.
Andorra is one of the few countries in Europe that bans abortion in all cases thus hurting thousands of women and putting their lives at grave risk. The State is not only jeopardizing women's lives and health, but also perpetuating structural violence by cutting off their access to abortion care. And at the same time, the State also retaliates against anyone who dares speak for women's rights to health, safety and freedom or shares their personal experiences.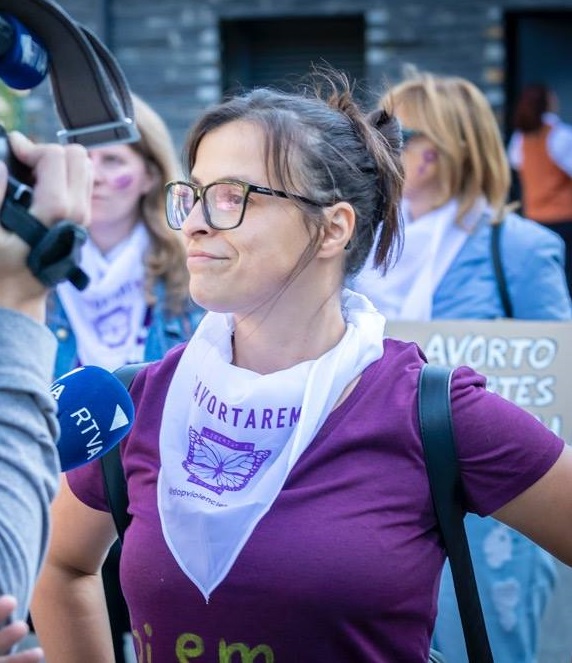 Vanessa Mendoza Cortés
Vanessa Mendoza Cortés

We are the only feminist association specialized in sexual and institutional violence, so women are coming to us every day or calling us to show their support and share heartbreaking stories of state violence, gender-based violence and obstetric violence. We will continue to fight for abortion in Andorra, because without women's rights, human rights are incomplete, said Vanessa.

Take action: We urge civil society organizations and decision makers to use the

Model Letter

drafted by Amnesty International and send it to the prosecution asking that all remaining charges be dropped.
We also ask European decision-makers to strengthen mechanisms to protect human rights defenders from retaliation, including from strategic lawsuits against public participation, and to politically and financially support human rights defenders and women's rights organisations in the EU and beyond so they can continue their important work.

 
Illustration: Anina Takeff